100% Made in Vietnam
100% Polyester fabric
0% Cost of design
Find out more about our Bunting, string flags below with 3 different products. Each one with different shape and advantage for user in marketing and promotional campain.
Bunting, string flags is long known as a saving cost promtional tool and decorative item for store, car garage, restaurant, small shop, event,... The reason is flags's convenience and iconic pattern, also the most important factor is attractive cost.
Bunting, string flags include: Custom sale flags, Multicolor bungting, multicolor string flags, Custom bunting, custom string flags, National bunting, national string flags.
Bunting, string flags have various shape and color. You could find a Bunting, string flag with triangle and square shape with diffenrent color or pattern displayed on it. The flags has quite small size, from 15-20cm wide. With the standard 10m rope, you could easily install Bunting, string flags on every corner, place in your store, house, supermarket,... With parachute rope, if you want to reduce or increase the lenght of Bunting, string flags, simply cut or attach another Bunting, string flags to it.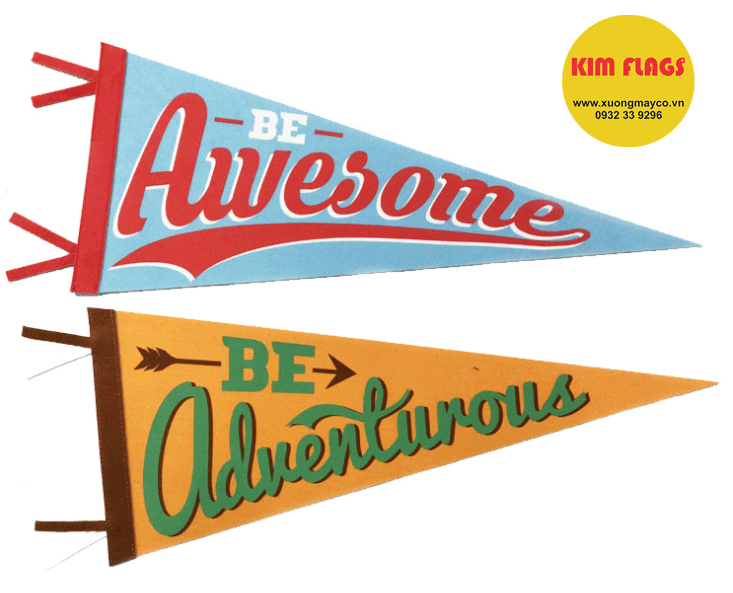 Bunting, string flags have many using. This is the reason why Bunting, string flags are so popular. In any store, supermarket you go, you could easily spot it on the high place, or conspicuous place. Bunting, string flags help your place become more friendly with customers and be interesting with other clients walk through.

Numerous events such as inauguration, sport event ( Motor racing, car racing,...), local fair, circus,... could use Bunting, string flags also to attract folk's sight to the stall or just to make the event more colorfull. Whereas, local store or great brand chain could apply Bunting, string flags to every its location as a marketing campaign with great scale to signify their appearance to potential customers.
As Vietnam is one of the most fabric and textile exporter in global, we are confident to be your international flags sourcing with numerous kind of flags include Bunting, string flags. Our factory with many great skill staff could provide you with excellent service and ready to export flags.
Please contact us through whatsapp, direct call or email:
Kim Flags- Vietnamese flags manufacturer
Location: Tu Van commune, Thuong Tin district, Hanoi, Vietnam
Telephone: +84 243 201 5255
Hotline/whatsapp: +84 932 33 9296
Fanpage: https://www.facebook.com/xuongmayco.vn
Email: xuongmayco@gmail.com